FairFuelUK Driver's poll as to who should be the next leader of the Country and the Tory Party, put 3 females in the lead. Penny Mordaunt is the favourite amongst UK drivers.

40,000 took part over the weekend in the online survey at https://s.surveyplanet.com/zmuz2j6b

The poll results at 9am Monday for choice of MP to become Prime Minister are as follows:
From this huge survey, it is clear that drivers, want traditional Conservative Policies back in place too. They want lower fuel taxation and for the new Prime Minister to focus on the economy and the cost of living crisis, by dropping costly Net Zero plans.
Here are the survey's top "asks" by drivers of the New leader of the Tory Party and the Country.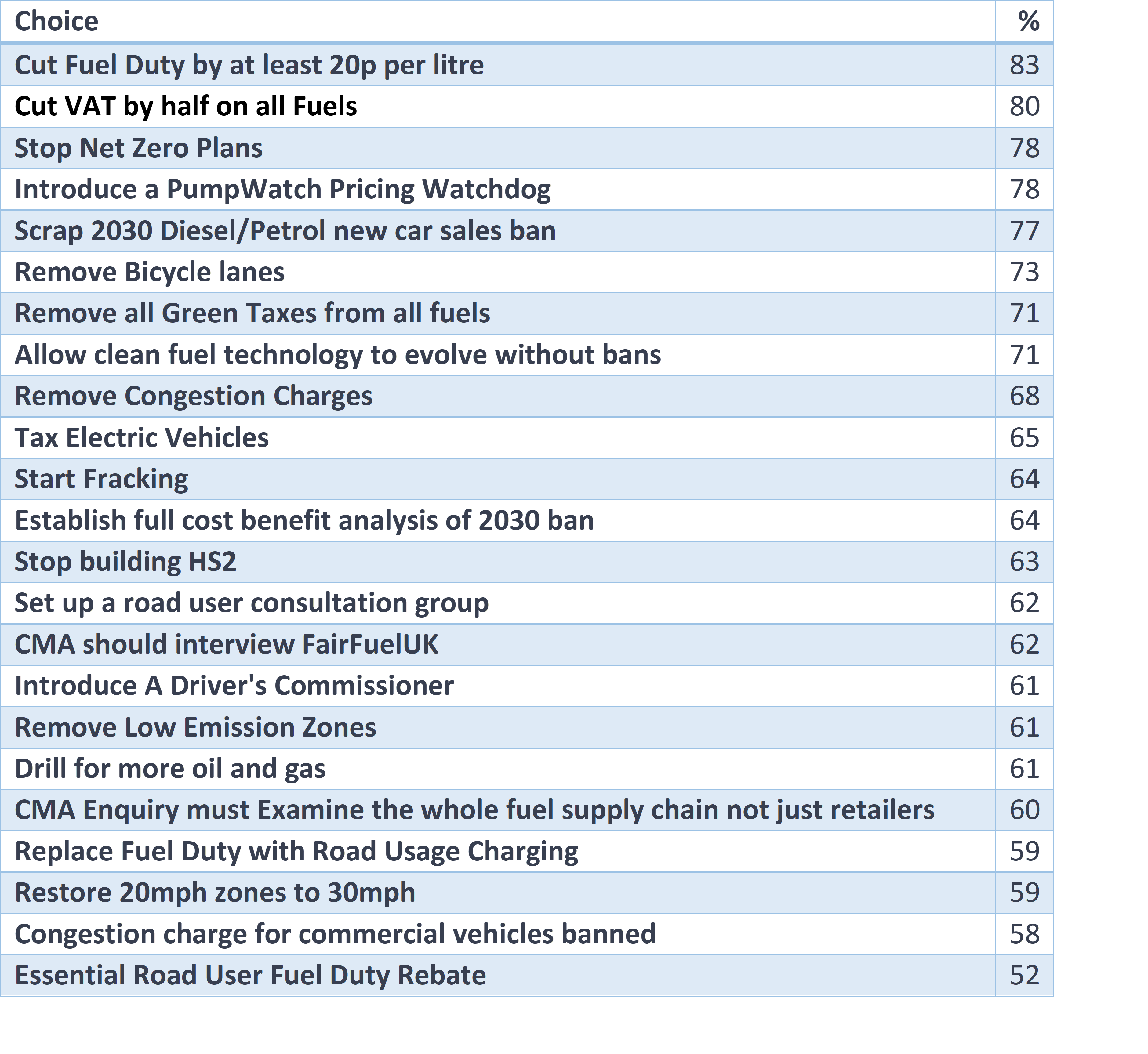 Howard Cox, Founder of FairFuelUK said: "The MP that backs cutting fuel taxation, introducing PumpWatch and making the CMA do their job to expose the opportunistic profiteering in the fuel supply chain will get most drivers' votes."
"Penny has been a staunch and loyal backer of UK's 37m drivers and as an MP, is a founding campaign supporter of FairFuelUK. I have known her for 12 years and truly believe she will deliver on the need for lower and fairer fuel taxation. She tells me she will introduce fairer incentives to drive cleaner, instead of inflicting ill-informed cliff edge idealistic and costly punitive bans. I am also certain she will bring a large dose of 'common-sense fiscal tactics' to reduce the pain of the current cost-of-living crisis. Our leadership survey shows she is a very popular choice to lead her Party to what millions of new Tory converts wanted so badly, when Boris was the breath of fresh air back in 2019."
"If Penny gets the job, I am looking forward at long last, to working with a kindred spirit in creating an effective road user strategy that benefits the economy and UK's much vilified drivers."
"If not Penny, the best of the men standing that will reduce the cost of driving is without doubt, Sajid Javid."
FairFuelUK, in this time of political torpor is URGENTLY calling for:
A Fuel Duty Cut of at least 20p per litre
Create a Pump Pricing Watchdog we call PumpWatch
Ensure the CMA enquiry investigates the pump pricing process throughout the fuel supply chain, don't just look at retailers.
Data sourced from the RAC Foundation, Global Petrol Prices, Petrol Prices.com and FairFuelUK Supporters Panel.
Media Contact: Howard Cox, Founder of the FairFuelUK Campaign and the Secretary to the APPG for Fair Fuel for Motorists and Hauliers –
Contact details : howard@fairfueluk.com Tel: 0751542161
Background: Since 2011 the APPG for Fair Fuel for UK Motorists and UK Hauliers has examined major issues that impact on UK drivers. Along with FairFuelUK, it has been a major influencer on keeping Fuel Duty frozen since 2011. As well as fuel taxation, other issues addressed by the APPG that impact on drivers, have included congestion charges, ULEZ/CAZs, parking costs, roads investment, unfair treatment for fossil fuelled vehicle owners, solutions to lower emissions, cleaner fuel incentives, alternative technology options and transparent pricing at the fuel pumps with a continual call for PumpWatch. With the expected decline in Fuel Duty revenue, the APPG will also formulate a long-term approach to the future of road taxation and a positive transport strategy for all road users. https://fairfueluk.com
Since 2010 FairFuelUK has saved drivers over £160bn in planned tax hikes in duty and VAT through constructive and objective campaigning. Had FairFuelUK not campaigned to scrap the fuel duty escalator, fuel tax today would be 90p/lt rather than 57.95p/lt. Today we would be paying £2.40+ per litre at the pumps had FairFuelUK not fought for the World's highest taxed drivers. Because of the Campaign, inflation is down 6.7% and £24bn has been put back into consumer spending each and every year since 2011.
FairFuelUK is a public affairs team with no shareholders to satisfy, just an award-winning campaign representing the real concerns of hard-working motorists, families, small businesses, commercial drivers and hauliers across the UK. Decades of fiscal exploitation by successive Governments with little in return, warrants the need for FairFuelUK.
For 12 years, this award winning campaign is funded by the RHA, and previously by Logistics UK and other respected organisations, 1.7m supporters and 146 MPs . FairFuelUK is fronted by the Campaign's Founder Howard Cox. Funding is through support from key founding backers the FTA (Logistics UK), RHA and regular donations from supporters. Previous backers have included the RAC, Association of Pallet Networks, UKLPG and many others.